Pictograph & Hiking Tours in
Hueco Tanks State Park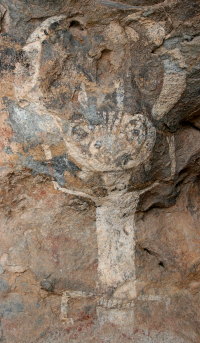 Hueco Tanks has an amazing collection of native American pictographs and other historic artifacts. Hueco Tanks covers about 860 acres. Roughly 42% of the park is rocky (the syenite porphyry mountains and boulders). There are well over 200 different pictograph locations within the park. Hueco Tanks also contains the highest concentration of mask pictographs in North America.
Pictograph tours are great outdoor events for school groups, church groups, families, teams, professional organizations, etc.
Pictograph tours may have up to 25 people on them. Hiking tours may only have up to 10 people on them.
Native Americans in Hueco Tanks
~9000 BCE - 6000 BCE: Paleoindian hunters frequented the area, but they did not leave many pictographs in Hueco Tanks (there are some in the Franklin Mountains). Folsom points have been found here.
~6000 BCE - 100 CE: Desert Archaic occupied the region and left numerous abstract designs, and a few hunting scene pictographs.
~200 CE - 1450 CE: Jornada Mogollon settled in the Hueco Tanks area. They built pit houses, cultivated crops, and painted an extensive amount of pictographs including the masks, tlalocs, and other amazing images
Post 1500 CE: Mescalero Apache, Kiowa, and Ysleta del Sur Tigua (Tiwa) frequented or lived near Hueco Tanks and they have left some pictographs behind, giving us some insight into their history
Hueco Tanks is split into the self-guided (North Mountain) and the guided (East Mountain, East Spur, and West Mountain) areas. There are pictographs everywhere, and numerous sites can be found on the self-guided North Mountain. However, guides can show you the pictographs and help you interpret them.
Pictograph & Hiking Tours
Volunteer Pictograph Tours

Volunteer Pictograph tours are cheaper and can be led by either park rangers or volunteer guides. During the winter, they start at 9:30, 10:00, 11:00, or 2:00. During the summer, they start at 9:00 or 11:00. Most tours last about 2.5 hours and follow a standard, prescribed path:

Volunteer Pictograph Tour Options

Tour 1: Newspaper Rock (lower 17), Kiowa Siege panel, Comanche Cave (~2.5 hr, default tour unless the primary schedules a different tour)
Tour 2: Puking Horse, Quetzlcoatl, Starry Eyed Man, White Horned Dancer (~3.5 hr)
Tour 3: Tour around West Mountain (~6 hr, very uncommon)
Tour 4: Guide's choice (variable)

The typical pictograph tour is #1, which hits some of the main large pictograph sites with minimal walking. Once you have been on Tour #1, you may schedule a different tour. However, sometimes rangers and volunteer guides do not have the time to do these longer tours.

Volunteer pictograph tours cost an additional $2 on top of the normal North Mountain entrance fee stated above. So if you have a parks pass, it will only cost each person in your car $2 for the tour.

To schedule a pictograph tour, call Hueco Tanks directly (915-857-1135).

Commercial Pictograph/Hiking Tours

Commercial pictograph tours are a bit more expensive, but they are much more flexible and they typically last about four hours or more. You can communicate directly with your guide to plan out which pictograph sites you will visit. We have some pre-planned routes, but you may mix and match as you like.

Public commercial pictograph tours cost $25 per person, of which $10 goes to Hueco Tanks State Park and roughly $4 goes toward paying for the concession, insurance, and other administrative costs.

Private commercial pictograph tour prices must be negotiated in advance, and they depend on the number of people and other factors. Typically they are about $350 + $12/person.

To schedule a pictograph tour with a commercial guide at Hueco Tanks, please visit our Hueco Tanks Tour Reservation page.
Pet Policies
You should leave your dog at home. The official wording from Hueco Tanks is: Pets can only walk on paved surfaces and on the picnic area trail. They must be on leash. Do not leave pets alone in a vehicle. That means you can't take your dogs out to the pictograph sites and you can't leave them in your car while you hike around, so what else are you going to do with them?