Yoga Tours in
Hueco Tanks State Park
Hueco Tanks, just east of El Paso, Texas, offers stunning views which can help enhance a yoga class, and they make for some amazing photo opportunities. Read on for details about the instructor-led yoga options in Hueco Tanks.
Yoga Instructor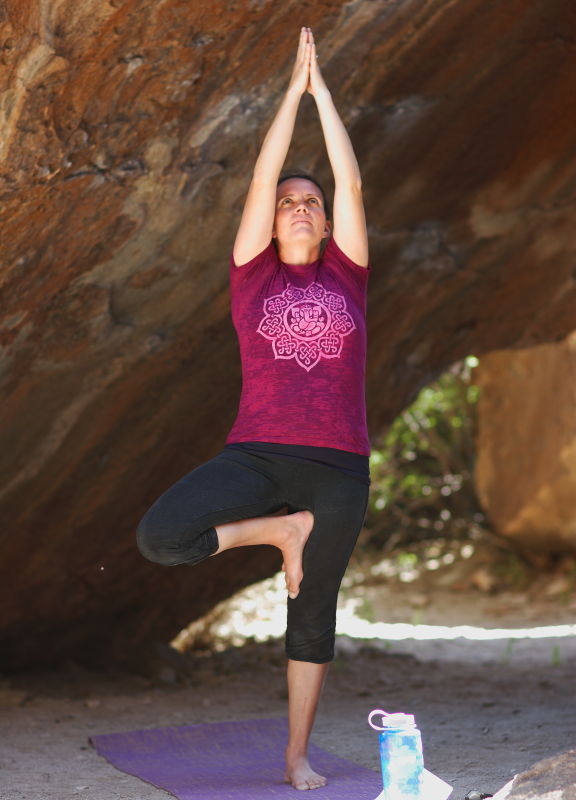 Beth Marek is our resident yoga instructor. She is a Registered Yoga Teacher (RYT 500) and has been teaching yoga since 2010. She teaches yoga in far east El Paso (Casa de Yoga) and on the west side (Surya Yoga).
Yoga Classes
Yoga classes inside Hueco Tanks are offered as guided tours throughout the park. There are two main types of tours in Hueco Tanks: volunteer and commercial.
Volunteer Yoga Tours

Volunteer yoga tours are cheaper but are only offered on the second weekend of each month. Beth is volunteering her time; she does not get paid and she cannot accept tips. We are currently the only park-sanctioned volunteer yoga guides for Hueco Tanks. These yoga tours begin at 7:00 AM (mid summer), 8:00 AM (spring and fall), and 12:00 PM (winter). Please check our Hueco Tanks Tour Reservation page for the next scheduled volunteer tour!

Tours last about two hours and include an hour-long teacher-led yoga class. Additionally, volunteer yoga tours are always "public," meaning that they typically fill up with yogis and yoginis that may be strangers to you. Yoga tours can accmomodate up to 10 people.

Typical volunteer yoga tour schedule

Hike from parking area to a good yoga spot (~20 min)
Enjoy an hour-long yoga class (60 min)
Hike to an overlook for individual yoga photos, pictograph site, etc (~20 min)
Hike back to the parking area (~20 min)

You should bring your own yoga mat, good hiking shoes (no sandals, flip flops, etc), and a bottle of water. If you do not have a yoga mat, we have a few extras, but it isn't a good idea to count on us having enough for everyone.

Volunteer yoga tours cost an additional $2 on top of the normal North Mountain entrance fee stated above. So if you have a parks pass, it will only cost each person in your car $2 for the tour. This extra fee is paid directly to the park when you check in.

To join a pre-scheduled volunteer yoga tour, call Hueco Tanks directly (915-857-1135).

Commercial Yoga Tours

Commercial yoga tours are a bit more expensive, but they are offered more frequently and can be much more flexible. Public commercial yoga tours are scheduled every Sunday, except for the day of the volunteer yoga tour. Like the volunteer yoga tours, they are about two hours long and are open to anyone. The typical public commercial yoga tour schedule follows the same format as the volunteer yoga tour schedule.

Private commercial yoga tours are four hours instead of two hours, giving you more time to practice your asana, explore the park, and take individual photos in different locations. Also, since it is a private tour, you can let the yoga instructor know what types of poses you would like to work on. Think of it as a private yoga lesson for you and your friends, with the beauty of Hueco Tanks surrounding you instead of a yoga studio's walls. Since it is your tour, you get much more input on where you go and what you do. Since your tour will typically be smaller than the volunteer or public tours, you will have many more options for your yoga class location.

The length of your class, as well as the amount of hiking, are things you will arrange directly with your guide.

Two-hour public commercial yoga tours cost $25 per person, of which $10 goes to Hueco Tanks State Park and roughly $4 goes toward paying for the concession, insurance, and other administrative costs.

Four-hour private commercial yoga tours cost $130 + $12/person.

All day private commercial yoga + bouldering tours cost $150 + $12/person.

To schedule a yoga tour with a commercial guide at Hueco Tanks, please visit our Hueco Tanks Tour Reservation page.